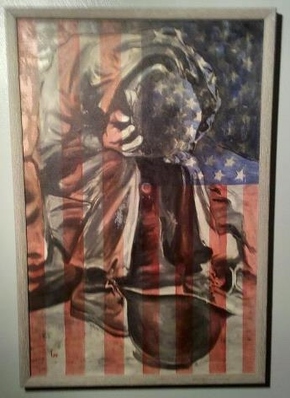 Hi, everyone... Julie O'Hara here. It's Memorial Day, and you don't need to be a body language expert to understand this soldier's sorrow, do you? Lee Hanson painted this picture 42 years ago during the Vietnam War. I asked her a few questions about it this morning:
"Is this someone you knew?"
"Yes, his name is Everyman, and because he lives in a world threatened by evil, he steps out in front of the rest of us to fight it. Sometimes he dies, and sometimes he lives, but always, always... he pays the price. He leaves a part of himself on the battlefield.
"Sometimes it's an arm or a leg, his sight or his hearing, or features burned beyond recognition. And then, there are the scars you can't see; the horror and the fear that haunts his dreams, the guilt that overwhelms him because his friends died and he lived...
"On Memorial Day, Julie, when we honor Everyman and Everywoman who paid the ultimate price,
we must remember the ones who are still suffering
. These damaged men and women who literally 'took a bullet' for us,
desperately
need our ongoing support. Their families are suffering and need us, too."
"How can we help them?" I asked.
"I support the Wounded Warriors Project, Julie."
"Huh. I think I'll check that out."
Just in case any of you are like minded, here's the link Lee gave me:
http://www.woundedwarriorproject.org/
God bless you all for caring...
Julie