Like my fictional body language expert, Julie O'Hara, I'm adept at 'seeing' what people aren't saying...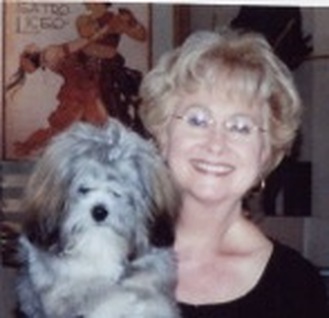 Toots and me (I'm the one on the right)
For forty years, I studied the nuances of body language. I learned to spot the telltale, fleeting facial expression, the shift in posture, tone of voice or cadence. I took every course, read everything I could find on the subject. In time, I became so good at it that what folks really wanted was as clear as if they were speaking out loud.
And
I became a multi-million dollar saleswoman.
I was also an avid reader with a strong desire to write, but I was married and supporting a family... I was simply making too much money to try something as harebrained as that!
So I waited impatiently for retirement to scratch my nagging writer's itch.
My only regret now is that I didn't retire earlier! I've had such fun writing these novels, dear reader.
I may physically be in a quiet suburb of Orlando, but now I get to live vicariously through my intrepid body language expert, Julie O'Hara... and it's a trip!
The fact that so many
thousands
of folks are enjoying Julie, too, well... that's a blessing.
Again, thank you so much for taking the time to visit my site. I'll try my best to add some interesting and informative stuff. In the meantime, rest assured that I am working on another engrossing story to puzzle and entertain you… and PLEASE, leave a comment or a review at:
klhanson@centurylink.net
I really do care what you want... but I can't 'see' if you're smiling from here...
Lee
---